AccessPress Social Icons Pro
15.00 $
Categories: Add-ons, code scripts, Forms, Galleries, Interface Elements, Media, Miscellaneous, Social Networking, Utilities, Widgets, WordPress
Tags: #social, AccessPress, floating social icons, icons, Pro, social icon, social icon widget, social icons, social icons sidebar, social icons widget, social media, social media icons, social media plugin, Social Networking, social profiles, social profiles icons, social sidebar, wordpress social icons, wp social icons
Vincule seus perfis sociais direto do seu website, de uma forma fácil e divertida!
Construtor de ícones embutido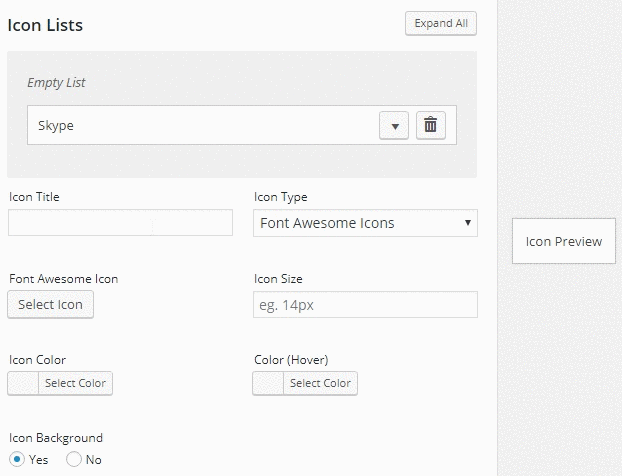 Características
16 conjuntos de ícones lindamente projetados

Selecione um dos temas de ícones pré-disponíveis ou carregue o seu próprio

Fortes opções de personalização

Defina o tamanho, defina a altura e a largura dos ícones
Defina a margem / espaçamento entre os ícones
Vincule seus perfis de mídia social, defina destinos de web link
Habilite e desabilite as dicas de ferramentas
Escolha o tipo de exibição (upright ou straight), defina no. de linhas / colunas

Vários ícones definem vários lugares

Crie várias instâncias dos conjuntos de ícones e use-os em vários lugares

Ícones impressionantes de fontes

Escolha entre mais de 105 ícones de fontes incríveis, pinte / estilize-os conforme necessário!

Conjuntos de ícones SVG

Conjuntos de ícones SVG de alta qualidade, deixe seus ícones prontos para retina!

A barra side social

Configure e set up a barra side social com muitas opções para o seu website.

Integração fácil

Obtenha código curto ou usage widgets para cada instância projetada
Use o código curto em qualquer lugar que desejar: cabeçalho, rodapé, na área de conteúdo

Obtenha alguns estilos!

Defina estilos como sombra, bordas para ícones
Defina dicas de ferramentas e estilize-as com sua própria cor, cor BG.

Dicas de ferramentas

Dê toque aos seus ícones – adicione e customize a dica de ferramenta
Ativar ou desativar dicas de ferramentas

Ícones Interativos

Torne-o interativo, defina a animação flutuante nos ícones.

Faça seu próprio format

Opção de exibição upright e straight
Selecione linhas e colunas

Antevisão ao vivo em pace actual

Visualização ao vivo em pace actual – verifique a aparência do seu website stakes de usá-lo.

Ordene os ícones

Ordene os ícones – da maneira que desejar, usando o recurso de arrastar e soltar fácil.

Totalmente Responsivo

Totalmente responsivo – compatível com dispositivos móveis

Interface de usuário amigável e muito interativa

Qualquer pessoa pode usá-lo, é tão fácil quanto arrastar e ropar.

Search Engine Optimization amigável

Use suas próprias tags alt / title de imagem para texto flutuante
O Google vai adorar!

Personalização paga disponível

Quer estender o plugin ou adicionar mais recursos? Peça-nos suporte costs

Apoiar

Suporte de fórum, suporte por conversation online e suporte dedicado por email

Atualizações grátis

Obtenha atualizações gratuitas para toda a vida.
Suporte dedicado vitalício
– Você pode nos encontrar a qualquer momento quando tiver alguma dúvida, problema ou alguma sugestão valiosa para o plugin ou para nós. Este plugin é compatível. Tudo o que você precisa fazer é entrar em contato com o desenvolvedor das seguintes maneiras:
Suporte do fórum a partir daqui.
Plugin Comentário aqui
Fórum de suporte dedicado – você pode nos contatar por meio de nosso fórum de suporte através de https://accesspressthemes.com/support
Suporte de bate-papo online
Nosso suporte inclui
Erros e insects

Se o seu website relatar algum erro devido aos nossos plug-ins, avise-nos. Envie-nos os detalhes do problema com os web links e capturas de tela necessários, nós o examinaremos e resolveremos.

Atualizações vitalícias

Testamos e atualizamos nossos temas e plug-ins do WordPress. Portanto, verifique se há novas atualizações e mantenha seu website seguro e atualizado com as novas tecnologias.

Desenvolvimento amigável ao cliente

Se os recursos de nossos produtos não atendem às suas necessidades e você tem algumas sugestões melhores, ficaremos sempre felizes em ouvi-lo. Estamos prontos para equipar seu negócio com as melhores opções. Para isso você pode solicitar uma personalização paga.
Nosso suporte não inclui
Instalação de plug-in

O preço do nosso plugin não inclui serviço de instalação. Mas temos muitos tutoriais e documentação extensa em que você pode confiar. E em caso de qualquer problema detectado durante a instalação, estamos aqui para ajudar. Se você precisa de uma instalação profissional, você pode nos solicitar uma instalação e configuração pagas.

Personalização de plug-in

Qualquer personalização básica de recursos e funções do plugin não se enquadra em nosso suporte gratuito. No entanto, se você deseja que o plugin seja personalizado para atender às suas necessidades – peça-nos orçamento de personalização. Trabalhamos com preço fixo e modelo de base horária.

Problemas de terceiros

Não cuidamos de problemas relacionados a plug-ins e temas de terceiros. Além disso, não oferecemos suporte para integrar temas ou plug-ins de terceiros.
CHANGELOG
2.0.3

* Checked compatibility with the WordPress variation 5.7 
* Refined CSS code to repair sidebar layout

2.0.2

* Fixed Issue: Fixed custom-made symbol upload concern

2.0.1

* Fixed Issue: Fixed symbol sneak peek switch revealing needlessly via code improvement in js.
* Fixed Issue: Checked compatibility as well as included couple of notification lines while submitting a picture in backend to make sure that picture will certainly show up in frontend or else if the web link URL is vacant picture will certainly not show up.
* Fixed Issue: Added photo of (various other item by accesspress styles) to picture folder which was missing out on formerly as well as remedied among the web links which were inaccurate.
* Fixed Issue: While permitting the social sidebar, at the frontend one symbol of the font-family direct symbol was disappointing, rather, it was revealing square. So, fixed this concern by including a linearicon.css documents as well as typeface folder of direct symbol to linear-icon folder inside CSS folder.

Feedback do cliente
Documentação:
Nós detalhamos a documentação que não deixa você com dúvidas. Encontre a documentação do plugin aqui:
https://accesspressthemes.com/documentation/plugin-instruction-accesspress-social-icons-pro/
Tutoriais em vídeo:
Preparamos tutoriais em vídeo detalhados para configurar e usar o plugin. Encontre tutoriais em vídeo aqui:
https://www.youtube.com/user/accesspressthemes/playlists
Veja os registros de alterações do plug-in aqui:
https://accesspressthemes.com/wordpress-plugins/accesspress-social-icons-pro/
Obtenha as últimas atualizações
Curta nossa página no Facebook e obtenha as últimas atualizações:
https://www.facebook.com/AccessPressThemes
Solicitação de recurso:
Clique aqui para enviar a solicitação de recurso. Também pode ser usado para notificar o pest.
https://accesspressthemes.com/contact/
Mais recursos do WordPress
Temas compatíveis com o plug-in:
AccessPress Social Icons Pro funciona melhor com todos os temas do WordPress. É ainda mais notável quando usado com temas populares como VMagazine e AccessPress Parallax.
E SE ESTE PLUGIN TIVER O MARCOU, ENTÃO VOCÊ GOSTARIA DE NOSSOS OUTROS PROJETOS. VERIFIQUE ESTES:
WPAll Club – Um clube de recursos WordPress completo. Tutoriais de WordPress, blog sites, temas e plug-ins gratuitos e costs com curadoria, negócios, ofertas, informações de hospedagem e muito mais do WordPress.
Temas WordPress Premium – 6 temas WordPress costs adequados para todos os tipos de websites. Temas profissionais, bem codificados e altamente configuráveis ​​para você.
Plugins WordPress Premium – mais de 45 plugins WordPress costs de muitos tipos diferentes. Altas avaliações do usuário, ótima qualidade e mais vendidos no mercado CodeCanyon.
Temas do AccessPress – AccessPress Themes tem mais de 50 temas bonitos e elegantes, totalmente responsivos e multifuncionais para atender às suas necessidades de forma gratuita e comercial.
8 Temas Graus – 8Degree Themes oferece 15+ temas WordPress gratuitos e 16+ temas WordPress costs cuidadosamente elaborados com criatividade.
Confira nossos outros ótimos plug-ins
AccessPress Anonymous Post Pro
AccessPress Social Pro
AShop Slider Pro
AccessPress Twitter Feed Pro
AccessPress Pinterest Pro
Postagem automática do AccessPress Social
AccessPress Social Login
WP Ultimate Social
AccessPress Instagram Feed Pro
Ultimate Form Builder
AP – Testemunhos personalizados para WordPress
WP Floating Menu Pro – Navegador de uma página, food selection fixo para WordPress
WP1 Slider Pro – WordPress Responsive Touch Slider para leigo
WP Mega Menu Pro – Plugin de Mega Menu responsivo para WordPress
Smart Logo Showcase – Plugin de galeria de logotipos de clientes responsivos para WordPress
AP Pricing Tables – Plug-in Responsive Pricing Table Builder para WordPress
Barra de Notificação Apex – Plug-in da Barra de Notificação Responsiva para WordPress
Ultimate Author Box – Postagem responsiva / Plug-in da seção do autor do artigo para WordPress
WP Popup Banners Pro – Plug-in pop-up last para WordPress
Galeria Everest – Plug-in de Galeria WordPress responsivo
WP Media Manager – O plug-in mais fácil do WordPress Media Manager
Everest Counter – Beautiful Stat Counter Plugin para WordPress
WP Blog Manager – Plug-in para gerenciar / projetar blog site WordPress
Everest Coming Soon – Ultimate Coming Soon, Plugin de Modo de Manutenção para WordPress
Everest Review – Post / Page / Plugin de revisão de tipo de article personalizado para WordPress por usuário e administrador
Everest Google Places Reviews – Melhor plug-in WordPress para mostrar Google Places / Avaliações de negócios
Everest Timeline – Plug-in Responsive Timeline para WordPress
Botão de contato WP Viber – Plug-in do botão de contato Premium Viber para WordPress
Classificação de comentários do Everest – Exibir gosto / não gostar com Reaction Emojis para comentários do WordPress
Everest Frequently Asked Question Manager – Plugin de perguntas frequentes (Frequently Asked Question) responsivo para WordPress
Everest Tab – Plugin de guia responsivo para WordPress
Botão WP FB Messenger – Plug-in de botão Premium FB Messenger para WordPress
Everest Admin Theme – personalizador de back-end do WordPress
Total Team – Responsive Team Showcase Plugin para WordPress
Botão WP WhatsApp – Plug-in Premium do botão WhatsApp para WordPress
WP Comment Designer – Personalizar e projetar comentários e formulários de comentários em WordPress
WP Product Gallery – Listagem de demonstração de produtos responsivos para WordPress
WP Cookie User Info Pro – Plugin de Notificação de Cookie para WordPress
Ultimate Contact Buttons – Conecte-se ao Viber, WhatsApp, Messenger e Skype through WordPress
Construtor de CTA embutido – camada de apelo à ação para WordPress
Formulário de contato 7 Store to DB – Extensão CF7 para armazenar entradas de formulário (conformidade complete com o GDPR)
Botão de contato WP Skype
Smart Scroll to Top – Faster as well as Smarter scroll to leading plugin para WordPress
Novo lançamento: o tema WordPress GRATUITO mais abrangente – Punte

Novo lançamento: tema WordPress gratuito tudo em – Bingle

group: wordpress/social-networking
cost : $ 15
hashtags : #AccessPress #Social #Icons #Pro