Google Spread Sheet In Gravity Forms
13.00 $
Categories: Add-ons, code scripts, Forms, Galleries, Interface Elements, Media, Miscellaneous, Social Networking, Utilities, Widgets, WordPress
Tags: #google, Forms, google sheet, google spreadsheet, Gravity, gravity form, gravity form to google spreadsheet, gravityform, Plugins, Sheet, Spread, WordPress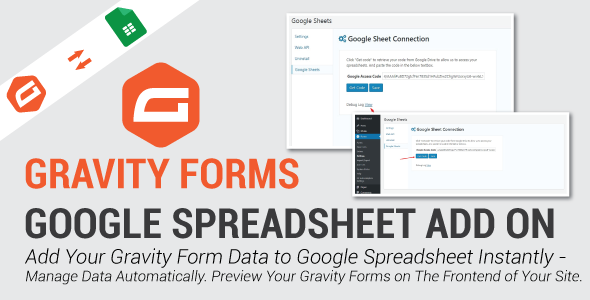 LIVE PREVIEWBUY FOR ENVANTO $13

O Google Spread Sheet In Gravity Forms agora é totalmente compatível com a versão 2.5 do Gravity Forms.
Gravity Forms com conector do Google Sheets é complemento do WordPress que ajuda você a exportar Formas Gravitacionais dados em Planilha do Google depois que o usuário enviar o formulário em seu website.
Conecte e gerencie cada Forma Gravitacionaldados com os seus próprios Planilha do Google. Isso permitirá que você filtre os dados conforme necessário, tornando o gerenciamento de dados simples e fácil.
Recursos adicionais
Exporte e gerencie seus dados do Gravity Forms usando o Google Spreadsheet depois que o usuário enviar formulário em seu website.
Gerencie simultaneamente formulários ilimitados sem nenhum problema.
Cada formulário Gravity terá sua própria planilha do Google separada.
Os dados de novo formulário serão adicionados em uma planilha pré-selecionada, como uma nova linha em cada campo.
Ter a capacidade de filtrar os dados de acordo com seus requisitos.
Escolha a preferência de visibilidade para cada campo na planilha – mostre os dados que você acha que são relevantes.
Todos os dados serão listados horizontalmente em uma folha.
Observação: Os nomes / rótulos das colunas na planilha do Google NÃO podem conter espaços ou caracteres especiais.
GUIA DE COMO FAZER
Como adicionar a chave de API do Google
Passo 1: Selecione a opção "Planilhas Google" na guia "Formulários" no food selection principal. Aqui, você encontrará a página de configurações principal, onde pode colocar o Google Access Code.
Passo 2: Assim que o usuário estiver configurado, clique no "Obter código" botão, que irá redirecioná-lo automaticamente para "Conexão da Planilha Google" página.
NOTA: O usuário deve estar logado through Gmail para obter o código de acesso.
Coloque o código de acesso no campo e clique em "Salve ."
Etapa 3: Agora que os formulários foram criados, clique no botão "definições" opção sob o formulário selecionado para integrá-lo com o Planilha do Google.
Você pode habilitar desabilitar a planilha do Google com qualquer Forma Gravitacional você quer.
NOTA: Você não tem permissão para integrar mais do que apenas UMA planilha do Google com formulário de gravidade.
Etapa 4: Configurações do formulário: Depois de criar formulário, a primeira coisa que você precisa fazer é configurar e conectar o formulário a Planilha do Google. Para isso, você precisa habilitar a conectividade do formulário clicando na caixa de seleção rotulada "Habilite para este formulário".
Depois disso, basta digitar um Nome da planilha do Google. Sua Folha do Google terá várias guias sob ele, portanto, forneça o nome do seu guia principal (aquele onde você deseja receber seus dados iniciais).
Etapa 5: Conecte os campos do Gravity Form com os nomes das colunas em sua Planilha Google. Depois de configurar o seu Folha do Google, você avançará para uma seção rotulada "Atribuir nomes de colunas da Planilha Google para o nome do campo."
Aqui, você verá vários campos alinhados de acordo com o que você criou em seu Forma Gravitacional. Agora, você será capaz de exportar o Forma Gravitacional campos para o seu Folha do Google coluna.
NOTA: Você pode exportar todos os campos do Gravity Form para a Planilha Google ou apenas alguns, a escolha é sua.
Observação: Nomes / rótulos de colunas na planilha do Google NÃO podem conter espaços ou caracteres especiais.
Etapa 6: Log de erros: parabéns! Terminamos a configuração das configurações. Se você descobrir que o seu plugin não está funcionando, clique no "Visualizar" botão sob o "Registro de depuração" opção de revisar erros (se houver).
CONNECTS PARA MAIS ALGUMAS INTEGRAÇÕES DE FORMAS DE GRAVIDADE
Changelogs

Version: 1.0.9
Date :  13/08/2020
Fixed - Options for solitary area tag presenting also if we choose 'Use kind area tags' alternative


Version: 1.0.8
Date :  03/07/2020
Added - alternative to send out Entry metadata to google sheets
Fixed - 'Sync All Entries' Limited to 20 entrances, boosted restriction to 1000 entrances


Version: 1.0.7
Date :  02/25/2020
Added - Settings for Google API Client ID as well as Client Secret


Version: 1.0.6
Date :  12/27/2018
Fixed - Authentication problem.
Fixed - setups conserving problem.


Version: 1.0.5
Date :  11/26/2018
Added - Select any kind of spread sheet from drop-down
Added - Assign customized column names or utilize kind area names for columns of spread sheet.
Added - Enable/disable spread sheet corresponding row need to be upgraded on edit/update of gravityforms entrances.
Added - Export spread sheet to csv on one click
Added - Conditional reasoning for kind information to be sent to spread sheet.


Version : 1.0
Date :  10/07/2017
preliminary launch.

classification: wordpress
cost : $ 13
hashtags : #Google #Spread #Sheet #Gravity #Forms