IMABuildeRz 3 – Ionic Mobile App Builder + Code Generator
32.00 $
Categories: Add-ons, code scripts, Forms, Galleries, Interface Elements, Media, Miscellaneous, Mobile App Templates, Social Networking, Utilities, Widgets, WordPress
Tags: #android, #ios, #mobile, App, appbuilder, Auto, Builder, code, codegenerator, cordova, drupal, generator, hybrid, imabuilder, IMABuildeRz, Ionic, ionicframework, joomla, native web, Private CMS, WordPress
IMABuildeRz v3 é uma ferramenta da internet (não SaaS / apenas para pessoal) para gerar código Ionic Framework v4 / Latest (angular10 / Latest) para aplicativos e back-end (Build ou Publishing além de nosso suporte), você pode criar back-end e aplicativos sem limite . Ao usar o recurso Add-ons, você pode criar aplicativos com / sem habilidade de codificação. O código gerado é código-fonte que pode ser editado novamente, como HTML, Typescript, SCSS, PHP e MySQL.
Além dos recursos básicos, também existem 35 addons que você pode usar para criar páginas ou outro código, por exemplo: json / api scratching, onesignal, admob, etc. Addons também têm vários modelos completos que podem funcionar como o appbuilder, sem necessidade de crie páginas uma a uma, por exemplo: application wordpress, application book, application woocomerce, application quote, etc. Ele também vem com gerador de plugin wordpres para criar plugin wordpres, gerador nativo php para criar código PHP e SQL e muitos outros.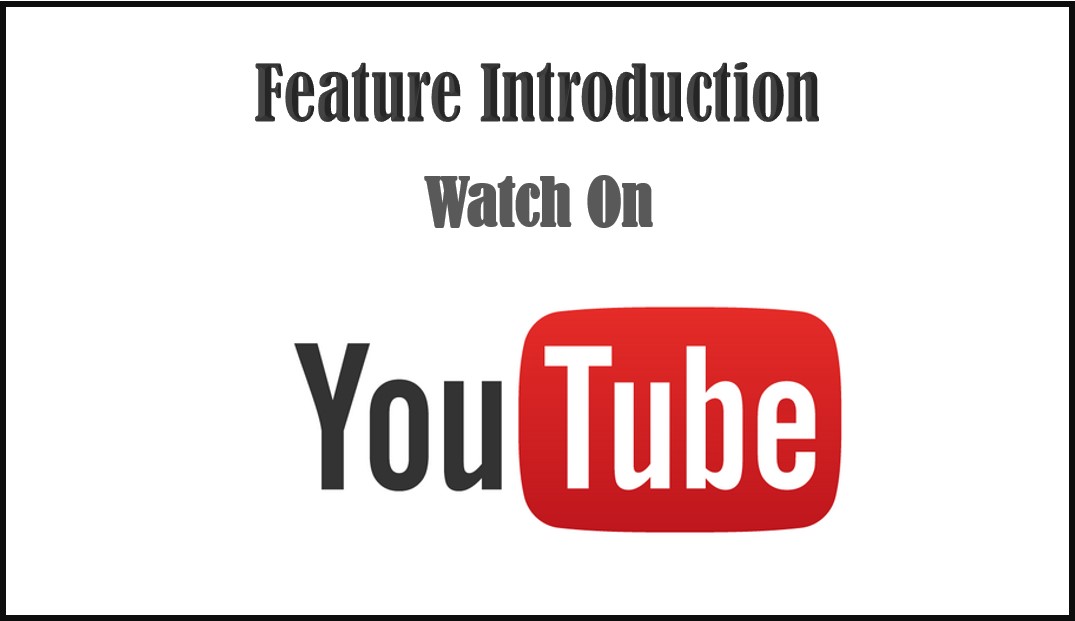 IMABuildeRz v3 é o sucessor de IMABuilderz v1, mas é diferente da versão former, iônico 5/6 (angular9) U.S.A. a linguagem de programação typescript e scss, ou seja, U.S.A. a programação moderna. Por support, leia a diferença e os conhecimentos necessários: aqui
Latest Version: rev21.07.04, All imabuilder v3 customers please make use of the current variation.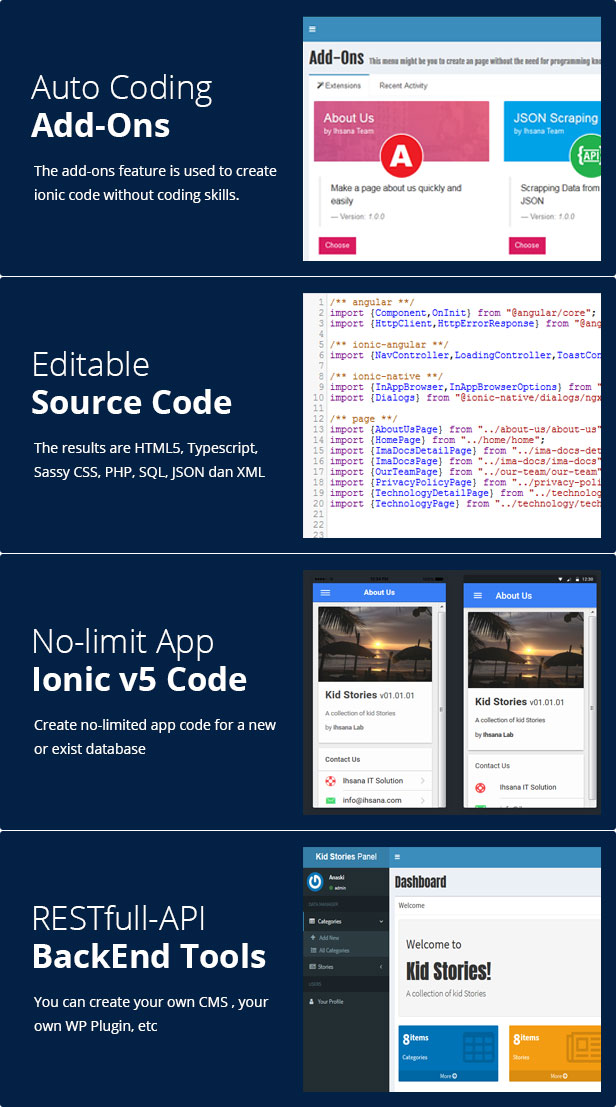 Complementos gratuitos:

Este aplicativo de exemplo é criado usando complementos de aplicativo WordPress, complementos OneSignal e complementos AdmobFree:
play.google.com

Este exemplo de aplicativo criado usando complementos de aplicativo WooCommerce
play.google.com
Portanto, este não é modelo, não é aplicativo baseado em modelo apenas (não como o construtor de aplicativos em geral), este é criador de código, criador de código baseado em suas instruções e com base em sua identidade.
Características
Codificação automática / guidebook, você pode criar aplicativos com / sem habilidades de codificação
App ilimitado, você pode fazer aplicativos sem limites
Etiqueta 100% branca, você pode vender aplicativos que criou
Código editável, você editará facilmente usando comentários ou TODO
BackEnd Generator, você pode criar o próprio plug-in WordPress, o próprio CMS privado para seu aplicativo
Suporte para tradução multilíngue
Recursos de codificação automática
Ferramentas de back-end

(IMAB) Gerador nativo de PHP, Eazy criar seus próprios códigos php e sql para website de back-end para seus aplicativos
(IMAB) Gerador de Plug-in WP, Eazy cria seu próprio plug-in wordpress para website de back-end para seus aplicativos
(IMAB) Editor JSON, Crie, edite ou exclua product do arquivo JSON

Fontes do Google
Ferramentas auxiliares

(IMAB) Gerador de ícone, Eazy criar seus próprios códigos php e sql para website de back-end para seus aplicativos
(IMAB) Desenvolvedor de complementos, Esta ferramenta para desenvolvedor, descubra novas oportunidades de negócios do mercado de complementos IMABuildeRz

Add-Ons, Addons são recursos adicionais, aqui estão alguns bônus / addons gratuitos de nós:

Page Creator ~ Sobre nós Complementos
-" Criar uma Sobre nós página de forma rápida e fácil
Anúncio ~ Add-ons gratuitos da Admob
– »Uma versão gratuita e sem compartilhamento de anúncios do plug-in Google AdMob para Cordova
Utilitário ~ Complementos de atualização de aplicativos
– »Gerar código para comparar a versão do aplicativo e atualizá-lo automaticamente se a API tiver uma versão mais recente para instalar
Page Creator ~ Complementos da versão do aplicativo
– »Gerar código para ler a versão do seu aplicativo a partir das configurações de construção de destino
Page Creator ~ Complementos de postagem do Blogger
– »Maneira fácil de fazer o código usado para buscar messages em seu Blogspot, Suporte: Posts, Social Share e Multiple Language
Interação do usuário ~ Fale conosco Complementos
– »Crie um formulário de contato
REST-API ~ Data Merger para JSON Scraping Addons
– »Faça uma página inicial pela forma como mesclar dados retirados do JSON Scraping, você pode criar alguns elementos como controle deslizante, miniatura ou lista de itens
Utilitário ~ Complementos de web links diretos
– »Este plug-in lida com web links diretos no iphone e Android para web links de esquema de LINK personalizado e web links de aplicativos universais
Interação do usuário ~ Complementos do Disqus
– »Insira um comentário disqus em seu aplicativo
Modelo completo ~ Complementos de aplicativos de electronic book
– »Esses addons são usados ​​para criar eBooks App e Website BackEnd, como: Stories App, Holy Book, Recipe Book, Prayer Book ou Comics App (Manga, Manhwa ou Manhua) e backend usam WordPress Plugin ou PHP Native Code
Criador de página ~ Incorporado com complementos iFrame
– »Gerar código de página para incorporar outras páginas da internet
Autenticação ~ Complementos de autenticação do Firebase
– »Firebase Auth é serviço que permite que seu aplicativo se inscreva e autentique usuário em vários provedores
Notificação ~ Complementos do Firebase Cloud Messaging
– »A maneira fácil de criar código para Firebase Cloud Messaging
Interação do usuário ~ Complementos do Form Builder
– »Maneira fácil de criar uma solicitação de formulário
Criador de página ~ Complementos do food selection da caixa de quality
– »Cria um food selection de caixa de quality para a página inicial
REST-API ~ JSON Scraping Addons
– »Dados de extração de REST-API / JSON
REST-API ~ JSON Scraping para complementos de dados únicos
– »Recuperando dados de único dado
Autenticação ~ Suplementos de autenticação JWT
– »Autenticação JSON Web Token para WordPress e outros
Utilitário ~ Sem complementos de rede
– »Se o dispositivo tem uma conexão com a internet
Notificação ~ OneSignal Push Addons
– »Para criar código para o plugin OneSignal Push Notification
Modelo completo ~ Citar complementos do aplicativo
– »Crie aplicativos de cotações que podem ser compartilhados nas redes sociais, copiados para a área de transferência ou salvos nos favoritos
Criador de página ~ Complementos do gamer de rádio
– »Faça uma página para reprodutor de rádio simples com suporte a Icecast e Servidor SHOUTcast
Criador de página ~ Venda de addons de produto único
– »Vender único produto com paypal
Utilitário ~ Complementos do Shake
– »Gerar código para detectar quando dispositivo físico realiza um gesto de agitar e faz alguma ação, usado para descontos surpresa ou assim por diante
Anúncios ~ Add-ons de anúncios do StartApp
– »Gerar código para anúncios StartApp, apenas o Android é compatível
Page Creator ~ Step Wizard Slider Addons
– »Crie um assistente de página para instruções de uso, os dados usados ​​são dados locais (offline)
Criador de página ~ Complementos do botão da barra de guias
– »Reúna algumas páginas com guias
Anúncio ~ Complementos do UnityAds
– »Integração de anúncios em vídeo UnityAds em seus aplicativos Cordova
Modelo completo ~ Complementos de aplicativo WooCommerce
– »Gerar códigos para WooCommerce
Page Creator ~ Complementos de produtos WooCommerce
– »Gerar código para listar produtos no WooCommerce
Modelo completo ~ Complementos de aplicativos do WordPress
– »Crie um código automático para o aplicativo WordPress, isso afetará todas as configurações do seu projeto. Os recursos são: Postagens, Categorias, Comentários, Usuários, Slider de Postagens Fixas, Favoritos, Compartilhamento Social, Vários Idiomas e outros
Criador de página ~ Complementos de mídia do WordPress
– »Uma maneira fácil de fazer o controle deslizante ou o código da página da galeria originado do WordPress Media
Criador de página ~ Complementos de página do WordPress
– »Maneira fácil de fazer o código usado para buscar uma página em seu WordPress, geralmente para criar uma página como privacidade etc.
Criador de página ~ Complementos de postagem do WordPress
– »Maneira fácil de fazer o código usado para buscar messages no seu WordPress. As postagens são tiradas em uma categoria, isso geralmente é usado para portais de notícias
Criador de página ~ Complementos de usuário do WordPress
– »Maneira fácil de fazer o código usado para buscar usuários em seu WordPress

Diretivas de Atributo

applicationBrowser, Abrir com App Browser (navegador integrado)
applicationWebview, Abrir com Webview
telephone callApp, Abrir com aplicativo de discagem
facebookApp, Abrir com o aplicativo do Facebook
geoApp, Abra com GEO App
googlePlayApp, Abra com o aplicativo Google Play Store
loja de aplicativos, Abrir com AppStore
lineApp, Abrir com aplicativo de linha
mailApp, Abrir com aplicativo de email
smsApp, Abrir com o aplicativo SMS
systemBrowser, Abrir com o navegador do sistema (externo)
twitterApp, Abrir com o aplicativo do Twitter
whatsappApp, Abrir com o aplicativo Whatsapp
Contate-Nos, Contato por chamada, SMS, email e WhatsApp

Diretivas Adicionais

Leitor de códigos de barra, Esta diretiva é para adicionar um food selection do leitor de código de barras no food selection e na página
Compartilhar using Instagram, Compartilhe uma foto com o aplicativo instagram
Pague com PayPal, Esta diretiva é para criar botão para pagar com paypal
Streaming Media, Esta diretiva é para transmitir áudio e vídeo em tela cheia, gamer nativo no iphone e Android
Texto para fala, Esta diretiva é para criar uma versão falada do texto
Jogue com o aplicativo do Youtube, Esta diretiva é para criar vídeos de reprodução do YouTube no aplicativo nativo do YouTube
Compartilhamento X social, Compartilhe texto, arquivos, imagens e web links através de redes sociais, text e e-mail
Tirar captura de tela, Captura uma captura de tela
Scanner de Documentos, Esta diretiva processa imagens de documentos, compensando a perspectiva
applicationRate, Esta diretiva torna mais fácil solicitar que o usuário avalie seu aplicativo, agora, mais tarde ou nunca
sneak peekAnyFile, Seja qual for o arquivo, é documento PDF, documento do Word, Excel, documento do Office, arquivo compactado, imagem, texto, html ou qualquer outra coisa
copiar para área de transferência, Esta diretiva cria um código para copiar o texto para a área de transferência

Tubos

objectLength, Obtenha o comprimento do objeto
phpTime, Usado para alterar o carimbo de information / hora do formato php para o formato JavaScript
consulte Mais informação, Divida o texto e dê rastro
stripTags, Usado para retirar as tags HTML de uma string
trust fundResourceUrl, higienizando LINK de recurso
trustHtml, disinfecting LINK
trustUrl, Exibir HTML sem higienizar / filtrar
pace atrás, Converter information em formato de hora atrás
Requisitos básicos
nodeJS e Ionic
Servidor Apache (XAMPP, WAMP ou MAMP)
PHP> = 5.5.6 ou suporte mais recente: zlib Extension, ZipArchive Class e PHP-GD
Zip Software
Espaço livre em nightclub> = 1000 MEGABYTES
Requisitos específicos de recursos
nodeJS e Ionic
Servidor Apache (XAMPP, WAMP ou MAMP)
PHP> = 5.5.6 ou suporte mais recente: zlib Extension, ZipArchive Class e PHP-GD
Zip Software
Espaço livre em nightclub> = 1000 MEGABYTES
AndroidSDK / XCODE
Adobe Photoshop / GIMP
Log de Mudanças

= rev21.07.04 =
* Improved: (IMAB) Icon Generator
* New attributes: (IMAB) Add-ons -> WordPress Custom Post Addons

= rev21.06.14 =
* New Features: (IMAB) Add-ons -> Multiple Choice Question (Quiz App)
* Improved: (IMAB) Add-ons -> Quote App
* Improved: (IMAB) Add-ons -> Ebook App
* Improved: (IMAB) Add-ons -> Deeplinks
* Improved: (IMAB) JSON Editor
* Improved: (IMAB) WP Plugin Generator
* Improved: (IMAB) PHP Native Generator

= rev21.06.06 =
* Improved: (IMAB) Add-ons -> JSON Scraping
* Improved: (IMAB) PHP Native Generator
* Improved: (IMAB) Add-ons -> OneSignal Push

= rev21.05.30 =
* New Features: (IMAB) Add-ons -> Form Builder -> Authorization
* Improved: (IMAB) PHP Native Generator
* New attributes: (IMAB) Add-ons -> Admob Plus
* Improved: (IMAB) Back-End Configuration -> Data = Current User Only
* Improved: (IMAB) Update Plugins and also Errors

= rev21.05.10 =
* Improved: PWA Support (Icon, Add to homescreen, etc)
* Improved: `(IMAB) Build and also Signed App` Page -> PWA Support
* Improved: (IMAB) Addons -> Quote App

= rev21.04.11 =
* Improved: (IMAB) PHP Native Generator - Default Value Issue
* Improved: (IMAB) Directives -> Additional -> Copy Text To Clipboard
* Improved: (IMAB) Directives -> Additional -> Preview Any File
* Improved: (IMAB) Directives -> Additional -> Take Screenshot
* Improved: (IMAB) Directives -> Additional -> X - Social Sharing
* Improved: (IMAB) Directives -> Additional -> Take Screenshot
* Improved: (IMAB) Directives -> Additional -> Text To Speech
* Improved: (IMAB) Directives -> Additional -> Streaming Media
* Improved: (IMAB) Directives -> Additional -> YouTube App
* Improved: (IMAB) Directives -> Additional -> Share Via Instagram
* Improved: (IMAB) Directives -> Additional -> Barcode Scanner
* Improved: (IMAB) Add-ons -> StartApp Ads
* Improved: (IMAB) Add-ons -> Firebase Cloud Messaging
* Improved: (IMAB) Add-ons -> Dynamic Menu
* Improved: (IMAB) Add-ons -> Form Builder
* Improved: (IMAB) Addons -> Firebase Authentication
* Improved: (IMAB) Directives -> Additional -> App Rate
* Improved: (IMAB) Directives -> Additional -> Paypal
* Improved: (IMAB) Add-ons -> WooCommerce Products
* Improved: (IMAB) Add-ons -> Disqus Comment
* Improved: (IMAB) Addons -> Grid Box Menu
* Improved: (IMAB) Add-ons -> Blogger Post
* Improved: (IMAB) Add-ons -> Data Merger for JSON Scraping
* Improved: (IMAB) Add-ons -> JSON Scraping for Single Data
* Improved: (IMAB) Add-ons -> JSON Scraping
* Improved: (IMAB) Add-ons -> One SIgnal
* Improved: (IMAB) Add-ons -> Tab Bar Button
* Improved: (IMAB) Add-ons -> Step Wizard
* Improved: (IMAB) Add-ons -> Shake-shake
* Improved: (IMAB) Add-ons -> Selling Single Product
* Improved: (IMAB) Add-ons -> Radio Player
* Improved: (IMAB) Add-ons -> Embed with iFrame 
* Improved: (IMAB) Add-ons -> Contact Us
* Improved: (IMAB) Add-ons -> Deeplinks
* Improved: (IMAB) Add-ons -> No Network
* Improved: (IMAB) Start Compiler
* Improved: (IMAB) Add-ons -> UnityAds (Update UnityAds v3)

= rev21.04.04 =
* Improved: Production Option
* Improved: (IMAB) Localization (Multi Language Translation) - (Angular11 compatibility)
* Improved: Ionic Angular Storage
* Improved: (IMAB) Add-ons -> WordPress Media Addons
* Improved: (IMAB) Add-ons -> WordPress User Addons
* Improved: (IMAB) Add-ons -> WordPress Page Addons
* Improved: (IMAB) Add-ons -> WordPress Post Addons
* Improved: (IMAB) Add-ons -> App Version
* Improved: (IMAB) Add-ons -> App Update
* Improved: (IMAB) Add-ons -> About Us
* Improved: (IMAB) Add-ons -> Admob Free
* Improved: (IMAB) Add-ons -> WordPress App
* Improved: (IMAB) Add-ons -> WooCommerce App
* Improved: (IMAB) Addons -> Quote App
* Improved: (IMAB) PHP Native Generator 
* Improved: (IMAB) Add-ons -> Ebook App

= rev21.03.28 =
- Improved: Ionic Storage Change To Ionic Angular Storage
- Improved: (IMAB) Update Plugins and also Errors
- Improved:(IMAB) Start Compiler

= rev21.03.08 =
* Improved: (IMAB) Add-ons -> Deeplinks (Angular11 compatibility)

= rev21.02.28 =
* Improved: (IMAB) Add-ons -> JSON Scraping for Single Data (Angular11 compatibility)
* Improved: (IMAB) Add-ons -> JSON Scraping (Angular11 compatibility)
* Improved: (IMAB) Add-ons -> Blogger Post (Angular11 compatibility)
* Improved: (IMAB) Add-ons -> WordPress App (Angular11 compatibility)
* Improved: (IMAB) Add-ons -> WordPress Post (Angular11 compatibility)
* Improved : (IMAB) Directives 

= rev21.02.09 =
* Improved: (IMAB) Website Converter
* Improved: (IMAB) Add-ons -> WooCommerce App (Angular11 compatibility)
* Improved: Angular11 compatibility
* New attributes: (IMAB) Menus -> Goto : Internal Link + Parameter 

= rev21.01.10 =
* Improved: (IMAB) Add-ons -> Ebook App
* Improved: (IMAB) WP Plugin Generator

= rev20.11.15 =
* Improved: (IMAB) Website Converter
* New attributes: Option for disable automobile program (IMAB) Emulator
* Improved: (IMAB) WP Plugin Generator - Fix Number problem
* Improved: (IMAB) Add-ons -> Ebook App
* Improved: (IMAB) Themes -> Enable Color Picker Option
* Improved: (IMAB) Add-ons -> JSON Scraping

= rev20.10.18 =
* New attributes: (IMAB) Addons -> Dynamic Menu
* Improved: (IMAB) Meta Tags
* New attributes: (IMAB) Add-ons -> WordPress Page -> Multiple language assistance
* New attributes: (IMAB) Add-ons -> WordPress Page -> HTTP Module -> Angular HTTP Client/HTTP Advanced (Bypass CORS)
* New attributes: (IMAB) Add-ons -> WordPress Post ->  Multiple language assistance
* New attributes: (IMAB) Add-ons -> WordPress Post -> HTTP Module -> Angular HTTP Client/HTTP Advanced (Bypass CORS)
* New attributes: (IMAB) PHP Native Generator -> User File LINK

= rev20.10.11 =
* Improved: (IMAB) Popover -> Multiple language assistance 
* Improved: (IMAB) Pipes -> Multiple language assistance 
* Improved:  (IMAB) Addons -> Quote App
* Improved: (IMAB) Add-ons -> WordPress App
* Improved: (IMAB) Directives Layout (include capasitor/cordova bagde)
* Improved: (IMAB) Build and also Signed App Page
* Improved: (IMAB) Update Plugins and also Errors 
* Improved:(IMAB) Start Compiler
* Improved: (IMAB) Directives -> Additional -> Document Scanner
* Improved: (IMAB) Directives -> Additional -> Save Asset Files
* Improved: (IMAB) Directives -> Additional -> Take Screenshot
* Improved: Ionic Capacitor Compatibility
* Improved: Android 10 Compatibility
* Improved: (IMAB) Localization (Multi Language Translation)
* Improved: (IMAB) Add-ons -> Ebook App -> Multiple language assistance

= rev20.09.27 =
* New attributes: (IMAB) Directives -> Additional -> Copy Text To Clipboard
* Improved: (IMAB) PHP Native Generator 
* Improved: (IMAB) WP Plugin Generator 
* New attributes: (IMAB) Add-ons -> JSON Scraping -> Custom HTTP Header
* Improved: (IMAB) Addons -> Firebase Authentication
* New Features: (IMAB) Add-ons -> WordPress App -> Search Option, Search Layout and also New Listing Layout
* Improved: (IMAB) Add-ons -> WordPress App -> Search Layout
* New attributes: (IMAB) Addons -> Quote App

= rev20.09.20 =
* Improved:(IMAB) Start Compiler
* Improved: (IMAB) Build and also Signed App Page
* New attributes:  (IMAB) Google Fonts (Insert Google Fonts to your styles)
* Improved: Barcode Scanner compatibility
* Improved: (IMAB) Add-ons -> JSON Scraping
* Improved: (IMAB) Add-ons -> WordPress Post Addons
* Improved: (IMAB) Localization (Multi Language Translation)
* New attributes: (IMAB) Addons -> Blogger Post
* Improved: (IMAB) WP Plugin Generator 

= rev20.09.13 =
* New attributes : (IMAB) Add-ons -> WordPress App -> Multi Language Translation
* Improved: (IMAB) Popover
* Improved: (IMAB) Add-ons -> WordPress App -> Dark Mode Option
* Improved: (IMAB) Add-ons -> Ebook App
* New attributes: (IMAB) Localization Adding (Multi Language Translation)

= rev20.09.06 =
* New attributes: (IMAB) Apps -> Dark Mode Default
* Improved: (IMAB) Addons -> Grid Box Menu
* Improved: (IMAB) Addons
* Improved: (IMAB) Add-ons -> Ebook App
* New attributes: (IMAB) Addons -> StartApp Ads

= rev20.08.30 =
* New attributes: (IMAB) Update Plugins and also Errors -> How to upgrade the Android SDK, API degrees, and also Target SDK?
* New attributes: (IMAB) Build and also Signed App Page -> Create AAB File to upgrade the application on Google Play Store
* Improved: (IMAB) Addons
* Improved: (IMAB) Build and also Signed App Page -> Create AAB File (Android App Bundle) to release on Google Play Store
* New attributes: (IMAB) Add-ons -> Ebook App -> Content Type: Document (PDF/Docx/various other)
* New attributes: (IMAB) Add-ons -> WordPress App -> Dark Mode Option
* Improved: (IMAB) WP Plugin Generator 
* New attributes: (IMAB) Add-ons -> WooCommerce App -> Dark Mode Option
* New attributes: (IMAB) Add-ons -> Ebook App -> Dark Mode Option
* Improved: (IMAB) Pipes
* New attributes: (IMAB) Addons -> Grid Box Menu
* New attributes: (IMAB) Addons -> UnityAds 

= rev20.08.23 =
* New attributes: (IMAB) Addons -> Step Wizard Slider -> As Home App and also Don't reveal once more Options
* Improved: (IMAB) Add-ons -> JSON Scraping
* Improved: (IMAB) Add-ons -> WooCommerce App
* Improved: Validation for replicate identifier app.component.ts and also app.module.ts

= rev20.07.26 =
* Improved: (IMAB) Add-ons -> WooCommerce App
* Improved: (IMAB) Add-ons -> WordPress App

= rev20.07.12 =
* Improved: `android-minSdkVersion` transformed to a newest variation (variation 22)
* Improved:(IMAB) Start Compiler
* Improved: (IMAB) Configuration
* New attributes: (IMAB) Addons -> Firebase Authentication
* New attributes: (IMAB) Addons -> Disqus Comment

= rev20.06.15 =
* Improved: (IMAB) Themes -> New Color
* Improved: (IMAB) PHP Native Generator -> OneSignal Sender
* Changed: (IMAB) Enqueue Style -> (IMAB) Meta Tags
* Improved: (IMAB) Configuration
* Improved: (IMAB) Themes
* Improved: (IMAB) Globals
* Improved: (IMAB) Directives
* Improved: (IMAB) Pipes
* Improved: (IMAB) Services
* Improved: (IMAB) Pages
* New attributes: (IMAB) Meta Tags -> Enqueue Styles, Enqueue Scripts, Meta Tags
* Improved: (IMAB) Helper Tools -> Website Converter
* Improved: (IMAB) Add-ons -> WordPress App

= rev20.06.01 =
* Improved: (IMAB) Add-ons -> WordPress App
* Improved: (IMAB) Add-ons -> WooCommerce App
* Improved: (IMAB) Popover -> Dark Mode
* Improved: (IMAB) Add-ons -> Ebook App (Ebooks App, Commics App or Stories App)
* Improved: (IMAB) Add-ons -> WordPress Media
* Improved: (IMAB) Helper Tools -> Website Converter

= rev20.05.18 =
* Improved: Routes Code
* Improved: (IMAB) Icon Generator
* Improved: (IMAB) Directives -> Additional -> App Rate
* Improved: Components
* New attributes: (IMAB) Directives -> Image Zoom 
* New attributes: (IMAB) WP Plugin Generator -> Support: Loco Translate
* New attributes: (IMAB) WP Plugin Generator -> Generator code: Multplex Images and also Text
* New attributes: (IMAB) PHP Native Generator -> Generator code: Multplex Images and also Text
* Improved: (IMAB) Back-End Configuration -> Multplex Images and also Text
* Improved: (IMAB) Build and also Signed App Page
* Improved: (IMAB) Pages
* Improved: (IMAB) Add-ons -> Radio Player ->  Current Song
* Improved: (IMAB) Add-ons -> WooCommerce App (Beta Test) -> Auth Type : LINK
* New attributes: (IMAB) Add-ons -> Ebook App (Ebooks App, Commics App or Stories App)
* Improved: (IMAB) Helper Tools -> Export / Import / Clone

= rev20.05.04 =
* Improved: (IMAB) Add-ons -> WordPress App
* Improved: (IMAB) PHP Native Generator -> Production Options : Debugger, Protector and also Compressed
* Improved: (IMAB) Popover -> App Exit
* Improved: (IMAB) Add-ons -> WooCommerce App (Beta Test)
* Improved: (IMAB) Add-ons -> JSON Scraping -> Preview Any File 
* New attributes: (IMAB) Directives -> Additional -> App Rate

= rev20.04.27 =
* Improved: (IMAB) Add-ons -> WooCommerce App (Beta Test)  -> Preview Any File 
* New attributes: (IMAB) Directives -> Additional -> Preview Any File
* New attributes: (IMAB) SplashScreen  Generator
* New attributes: Multi-Language Interface (Support: Portuguese - Brazil)
* Improved: (IMAB) Icon Generator
* Improved: (IMAB) Helper Tools -> Website Converter 
* Improved: (IMAB) Add-ons -> WordPress App
* New attributes: (IMAB) Documentation
* New attributes: (IMAB) Youtube Channel
* New attributes: (IMAB) Build and also Signed App -> Showcase Your App
* New attributes: Multi-Language Interface (Support: Bahasa Indonesia)
* Improved: (IMAB) Add-ons -> Embed with iFrame 
* New attributes: (IMAB) Google Services
* New attributes: (IMAB) Add-ons -> Firebase Cloud Messaging

= rev20.04.20 =
* Improved: (IMAB) JSON Editor (Suitable to the Firebase Realtime Database)
* Improved:  (IMAB) Add-ons -> WooCommerce App (Beta Test)
* Improved: (IMAB) Add-ons -> JSON Scraping
* Improved: (IMAB) Add-ons -> OneSignal Push
* Improved: (IMAB) Add-ons -> (IMAB) Deeplinks

= rev20.04.13 =
* Improved: (IMAB) Add-ons -> JWT Auth -> Register and also Update Profile User
* Improved: (IMAB) Add-ons -> WordPress App
* Improved: (IMAB) Add-ons -> WordPress Post (Support: Download, GEO, Youtube, Video etc )
* Improved: (IMAB) Update Plugins and also Errors 
* Improved: (IMAB) Menus (Item Type: Take screenshots, X - Social Sharing, Document Scanner)

= rev20.04.06 =
* Improved: (IMAB) Add-ons -> JSON Scraping
* New attributes: (IMAB) Helper Tools -> Website Converter
* New attributes: (IMAB) PHP Native Generator, Support: Register and also Update Profile User 
* New attributes: (IMAB) Add-ons -> JWT Auth -> Register and also Update Profile User
* New attributes: (IMAB) Directives -> Additional -> X - Social Sharing
* New attributes: (IMAB) Directives -> Additional -> Take Screenshot
* New attributes: (IMAB) Directives -> Additional -> Document Scanner

= rev20.03.30 =
* New attributes: (IMAB) Add-ons -> JSON Scraping -> Bookmarks
* New attributes: (IMAB) Code Helper
* New attributes: Capasitor
* New attributes: `(IMAB) Build and also Signed App` Page
* Improved: `(IMAB) Compiler` Page to `(IMAB) Start Compiler` Page
* Improved: `(IMAB) Update Native Plugin` Page adjustment to `(IMAB) Update Plugins and also Errors` Page
* Improved: Ionic and also Hardware Back Button
* Improved: (IMAB) Add-ons -> Admob Free

= rev20.03.16 =
* New attributes: Support for Android App package (.aab)
* New attributes: (IMAB) Add-ons -> WooCommerce App (Beta Test)
* New attributes: (IMAB) Pipes -> TrustHTML
* New attributes: (IMAB) Directives -> Additional -> Save Asset Files
* Improved: (IMAB) Add-ons -> WordPress App
* Improved: (IMAB) Add-ons -> WordPress Post
* Improved: (IMAB) Add-ons -> WordPress Page
* Improved: (IMAB) Add-ons -> JSON Scraping
* Improved: (IMAB) Compiler

= rev20.02.24 =
* Improved: (IMAB) Add-ons -> WordPress Page
* New attributes: (IMAB) Add-ons -> WooCommerce Products

= rev20.02.17 =
* Update Ionicons v5
* New attributes: (IMAB) Pages -> ConditionBar Option
* Improved: (IMAB) Add-ons -> WordPress Post
* Improved: (IMAB) Add-ons -> No Network
* Improved: (IMAB) Add-ons -> WordPress
* Improved: (IMAB) Add-ons -> Tab Bar Button
* Improved: (IMAB) Add-ons -> JSON Scraping
* Improved: (IMAB) Directives -> Additional -> Paypal
* Improved: (IMAB) Add-ons -> Selling Single Product

= rev20.02.10 =
* New attributes: (IMAB) Add-ons -> Contact Us
* New attributes: (IMAB) Add-ons -> Selling Single Product
* Improved: (IMAB) Directives -> WhatsApp Directives
* Improved: Emulator Docs

= rev20.01.27 =
* Improved: (IMAB) Add-ons -> Tab Bar Button
* Improved: (IMAB) Pages -> Footer Option

= rev20.01.20 =
* Improved: (IMAB) Pages
* Improved: (IMAB) Add-ons -> WordPress
* New attributes: (IMAB) Globals (app.component/app.modules)

= rev20.01.06 =
* New attributes: (IMAB) Add-ons -> Deeplinks
* New attributes: (IMAB) Add-ons -> JSON Scraping for Single Data
* Improved: (IMAB) PHP Native Generator, Support JWT Auth

= rev19.12.04 =
* Improved: (IMAB) Add-ons -> JSON Scraping
* Improved: (IMAB) PHP Native Generator
* Improved: Ionic CSS qualities (deprecated)
* Improved: (IMAB) Add-ons -> JWT Auth

= rev19.10.14 =
* Improved: Add clear shade
* Improved: REST-API assistance HTTP/HTTPS
* Improved: Barcode Scanner compatibility
* Improved: Ionic CSS qualities (deprecated)
* Improved: (IMAB) Apps -> Add Back Button Option
* Improved: (IMAB) PHP Native Generator
* Improved: (IMAB) Add-ons -> JSON Scraping -> Support Auth Basic and also JWT Auth

= rev19.09.16 =
* New attributes: (IMAB) Add-ons -> No Network
* New attributes: (IMAB) Helper Tools -> Export / Import (Beta Testing)
* Improved: Angular Locale (Beta Testing)
* Improved: (IMAB) Add-ons -> JWT Auth
* Improved: (IMAB) Add-ons -> JSON Scraping
* Improved: (IMAB) Add-ons -> App Update
* Improved: (IMAB) Add-ons -> AdmobFree
* Improved: (IMAB) Add-ons -> Embed with iFrame
* Improved: (IMAB) Add-ons -> JWT Auth

= rev19.08.19 =
* Improved: Color Picker
* Improved: (IMAB) Add-ons -> AdmobFree
* Improved: (IMAB) Page -> Back Button Option
* Improved: (IMAB) Page -> Search Option
* Improved: (IMAB) Add-ons -> JWT Auth (Beta Testing)

= rev19.08.12 =
* Improved: (IMAB) Add-ons -> Data Merger for JSON Scraping
* Improved: (IMAB) Add-ons -> JSON Scraping
* Improved: (IMAB) Add-ons -> AdmobFree
* Improved: (IMAB) PHP Native Generator
* Improved: (IMAB) Back-End Configuration -> Image Featured, Thumbnail and also File Upload
* New attributes: (IMAB) Add-ons -> Form Builder -> File Upload
* New attributes: (IMAB) Add-ons -> Embed with iFrame
* New attributes: (IMAB) Add-ons -> JWT Auth (Beta Testing)
* New attributes: (IMAB) Themes -> New Color
* New attributes: (IMAB) Menus -> Color Background
* New attributes: (IMAB) Menus -> Image Background
* New attributes: (IMAB) Menus -> Lines of Items

= rev19.08.05 =
* Improved: File Browser (elfinder 2.1.44)
* Improved: (IMAB) Add-ons -> JSON Scraping (angular8 compatibility)

= rev19.07.29 =
* New attributes: (IMAB) PHP Native Generator -> OneSignal Sender
* New attributes: (IMAB) Icon Generator
* New attributes: (IMAB) Directives -> Additional -> YouTube App
* Improved: (IMAB) Add-ons -> Tab Bar Button
* Improved: (IMAB) Add-ons -> App Update
* Improved: (IMAB) Menus -> YouTube App
* Improved: (IMAB) Menus -> Streaming Media
* Improved: (IMAB) Add-ons -> JSON Scraping -> YouTube App

= rev19.07.15 =
* New attributes: (IMAB) Apps -> Ionic Storage Option
* New attributes: (IMAB) Add-ons -> App Update, Generate code for automated updates
* New attributes: (IMAB) Add-ons -> App Version, Generate code for checks out the variation
* New attributes: (IMAB) WP Plugin Generator -> Submit/Reguest POST/GET Method
* Improved: (IMAB) Add-ons -> JSON Scraping
* Improved: (IMAB) Add-ons -> Radio Player -> include Ionic Native Insomnia (Prevent the display of the mobile phone from dropping off to sleep)
* Improved: (IMAB) Popover

= rev19.07.01 =
* Improved: (IMAB) Add-ons -> About Us
* Improved: (IMAB) Emulator Preview
* Improved: Setup

= rev19.06.03 =
* Improved: (IMAB) Add-ons -> JSON Scraping
* New attributes: (IMAB) Add-ons -> Tab Bar Button
* New attributes: (IMAB) PHP Native Generator -> Submit/Reguest POST/GET Method

= rev19.05.28 =
* New attributes: (IMAB) Add-ons -> Form Builder
* Improved: (IMAB) Themes
* New attributes: (IMAB) Add-ons -> Data Merger for JSON Scraping

= rev19.05.13 =
* New attributes: (IMAB) Page -> Layout Type -> Search Bar + Barcode Scanner
* New attributes: (IMAB) Directives -> Additional -> Barcode Scanner
* New attributes: (IMAB) Directives -> Additional -> Streaming Media
* New attributes: (IMAB) Directives -> Additional -> Text To Speech
* New attributes: (IMAB) Directives -> Additional -> Paypal
* New attributes: (IMAB) Directives -> Additional -> Share Via Instagram

= rev19.04.29 =
* Improved: (IMAB) Add-ons -> About Us
* Improved: (IMAB) Add-ons -> OneSignal Push
* Improved: (IMAB) Add-ons -> WordPress
* Improved: (IMAB) Add-ons -> WordPress Page
* Improved: (IMAB) Add-ons -> WordPress Post
* Improved: (IMAB) Add-ons -> WordPress User
* New attributes: (IMAB) Add-ons -> Radio Player
* Improved: All Add-ons

= rev19.04.22 =
* New attributes: (IMAB) Add-ons -> Admob Free Add-ons
* New attributes: (IMAB) Menus -> Header -> Expanded Header
* Improved: Ionic Production
* Improved: (IMAB) Compiler
* Improved: (IMAB) Native

= rev19.04.15 =
* New attributes: (IMAB) Add-ons -> WordPress Add-ons
* New attributes: (IMAB) Popover Component
* New attributes: (IMAB) Pages -> Corner Button
* Improved: All Add-ons

= rev19.04.09 =
* Improved: (IMAB) Pages -> Background Color, Custom Color, Background Image

= rev19.04.08 =
* New attributes: Services Menu
* New attributes: Directives Menu
* New attributes: JSON Editor
* Improved: (IMAB) Apps -> ConditionBar Style
* Improved: (IMAB) Pages -> Content -> Styles, Script, WYSIWYG Editor, Modules and also History, Clean History
* Improved: (IMAB) Menus -> Menu Position, Menu Type and also Header Color
* Improved: (IMAB) Add-Ons -> Screenshoot Button
* Improved: (IMAB) Themes -> More Color Variables

= rev19.03.25 =
* Rename imabuilder v3 (Ionic 4 Support)

= rev19.03.21 =
* First launch

group: mobile/native-web/full-applications
rate : $ 32
hashtags : #IMABuildeRz #Ionic #Mobile #App #Builder #Code #Generator