Kivicare Pro – Clinic & Patient Management System EHR (Add-on)
39.00 $
Categories: Add-ons, code scripts, Forms, Galleries, Interface Elements, Media, Miscellaneous, Social Networking, Utilities, Widgets, WordPress
Tags: #addon, #clinic, #doctor, #hospital, Add-ons, appointment management, clinic management, doctor management, EHR, kivicare, Management, patient, patient management, Pro, System, telemed, Vuejs, Zoom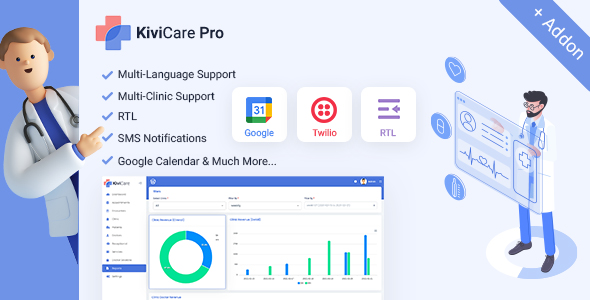 LIVE PREVIEWBUY FOR ENVANTO $39

KiviCare é plugin de gerenciamento de clínica e paciente impressionante. É desenvolvido para médicos e clínicas para lidar com várias consultas e encontros médicos na clínica. Ele permite que você faça, gerencie e acompanhe a marcação de consultas de pacientes para médicos. Adicione feriados, recepcionista, defina lembretes para consulta e defina a notificação de e-mail para médicos. Mantendo a privacidade em primeiro lugar, cada consulta médica pode ser mantida em sigilo para outras pessoas.
Além disso, aproveite atualizações GRATUITAS para a vida toda!
Estamos trabalhando constantemente para tornar sua experiência melhor a cada atualização. Receba todas as atualizações mais recentes absolutamente GRÁTIS
Politica de reembolso
Não oferecemos reembolso. (Se o thing for baixado)
Leia a descrição e o conteúdo de compatibilidade completamente antes de comprar, pois não oferecemos reembolso se você comprá-lo por engano.
Lista de Recursos
Dashboard: permite que você picture módulos importantes do medical facility.
Clínica múltipla: gestão clínica / hospitalar múltipla para médicos.
RTL: Kivicare suporta RTL.
Notificação por SMS (Twilio): Alertas de notificação são enviados por Kivicare sobre eventos importantes marcados.
Multi Language: KivicarePro permite que você customize a preferência de idioma.
Personalização de temas: O KivicarePro para todos oferece algumas opções incríveis de personalização de temas para você.
Relatório: KivicarePro permite que você acesse os dados gerando relatórios para gerenciamento.
Impressão de receitas: obtenha uma lista completa de receitas de medicamentos em um neighborhood e imprima-a para sua referência.
Impressão de faturas: Gere faturas para pacientes e mantenha o registro com KivicarePro.
Opção de habilitar / desabilitar módulo: Selecione e alterne para habilitar módulo específico ou desabilitá-lo de acordo com sua necessidade.
Módulo de administração clínica
O administrador / enfermeira da clínica pode gerenciar os dados do paciente
Tome nota da condição do paciente
Gerenciar Para manter o controle de compromissos
Status da prescrição
Módulo Médico
O médico pode gerenciar os dados do paciente
Painel com cronograma para médico
Gerenciar prescrição de pacientes
Veja todos os detalhes do paciente bem na sua frente
Módulo Recepcionista
Visualização rápida de eventos importantes do dia
Acesse e gerencie relatórios para gerenciamento
Atualize e gerencie o calendário com eventos e avisos importantes.
Módulo de Paciente
Permite que o paciente se registre
O administrador da clínica pode reconhecer o registro do paciente
O paciente pode agendar consulta com médico conforme disponibilidade
Suporte e Assistência
Enfrentou problema? Precisa de ajuda com o produto? Não se preocupe – nossa equipe de suporte ao cliente está sempre pronta para ajudá-lo.
Observação: Por support, levante tíquete aqui em https://iqonic.desky.support/

As solicitações de suporte estão sendo processadas em dias úteis, das 9h às 18h (GMT +05.30) [generally] dentro de 24h a 48h na ordem em que foram recebidos.
Sugerimos, enquanto nossa equipe analisa sua solicitação de suporte, leia a documentação que vem no arquivo zip do CodeCanyon. Você pode baixá-lo em CodeCanyon: https://codecanyon.net/downloads
Estamos no fuso horário GMT +5: 30. Atendemos todas as consultas de suporte 6 dias por semana (domingo livre).
Se algum tíquete de suporte não tiver resposta do proprietário do thing por 7 dias, o tíquete será considerado fechado. Se precisar de mais ajuda, você pode criar outro tíquete ou enviar-nos e-mail solicitando a reabertura do tíquete para você.
Se tiver perguntas ou dúvidas sobre pré-vendas, escreva para nós por meio de nosso página de contato do site
Se você gosta de nosso produto e suporte, avalie e escreva um comentário em: https://codecanyon.net/downloads
Changelog
Versão 1.1.8 – 23 de junho de 2021
Added - Appointment condition take care of based upon woocommerce order repayment condition.
Versão 1.1.7 – 26 de maio de 2021
-  Bug Fixes
Versão 1.1.5 – 14 de maio de 2021
-  GOOGLE SCHEDULE Feature Added
-  Paitient Unique Id Creation
-  Bug Fixes
Versão 1.1.4 – 20 de abril de 2021
-  Bug Fixes
Versão 1.1.2 – 24 de março de 2021
-  Added WooCommerce Payments
-  Minor Fixes
Versão 1.1.1 – 13 de março de 2021
-  Major Bug Fixes
Versão 1.1.0 – 26 de fevereiro de 2021
-  Bug Fixes
Versão 1.0.1 – 24 de fevereiro de 2021
-  Bug Fixes
- Added Feature to sustain any kind of language
Versão 1.0.0 – 20 de fevereiro de 2021
- Initial launch.
group: wordpress/add-ons
cost : $ 39
hashtags : #Kivicare #Pro #Clinic #Patient #Management #System #EHR #Addon