Tabela de preços – Plug-in da tabela de preços do WordPress
25.00 $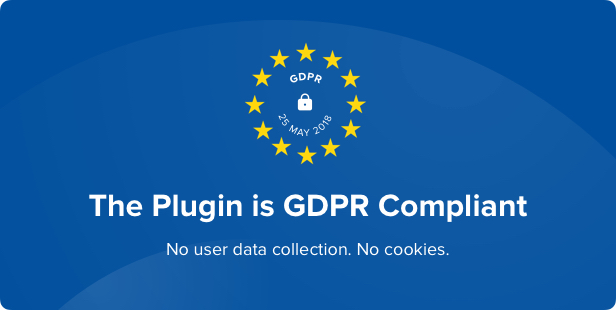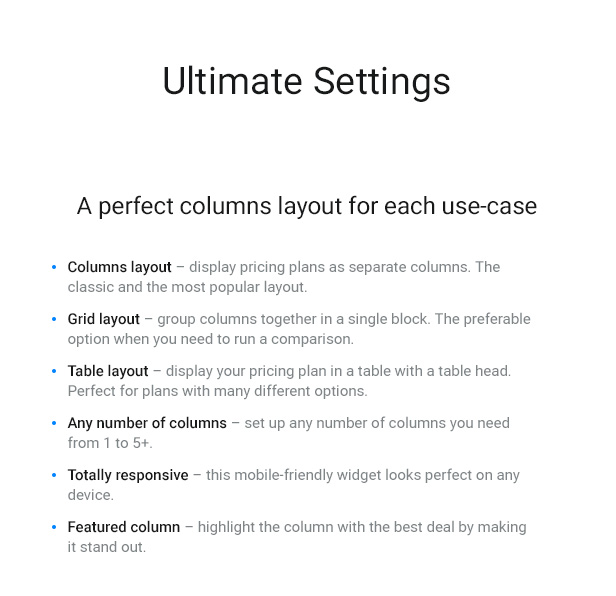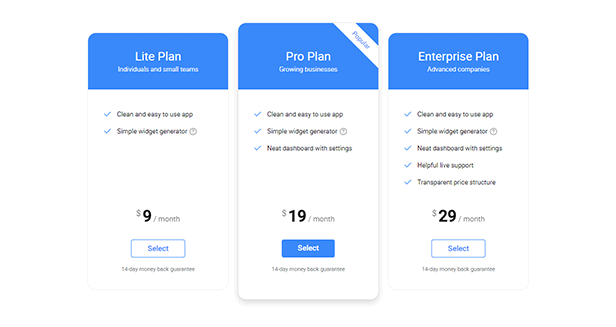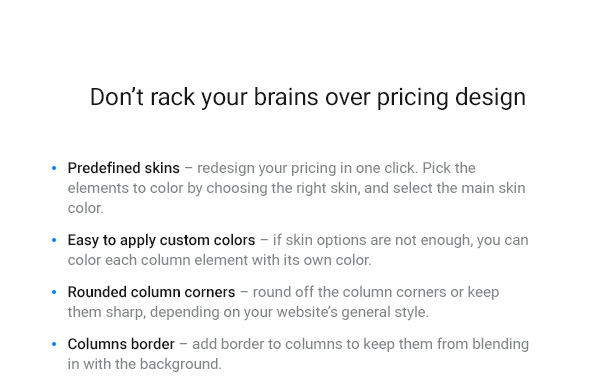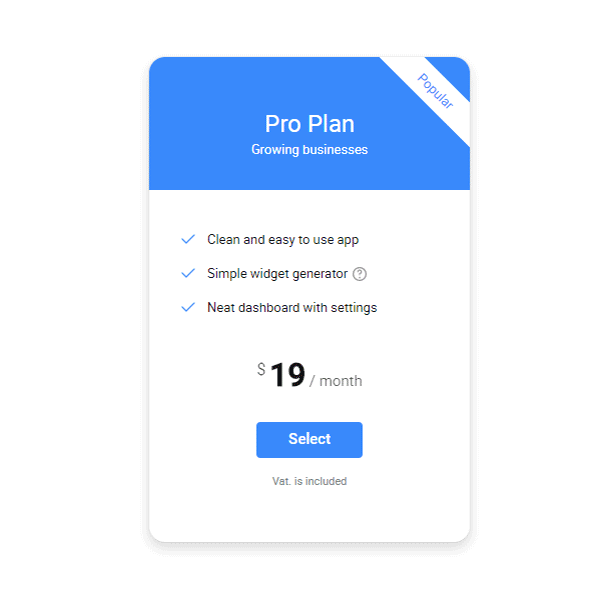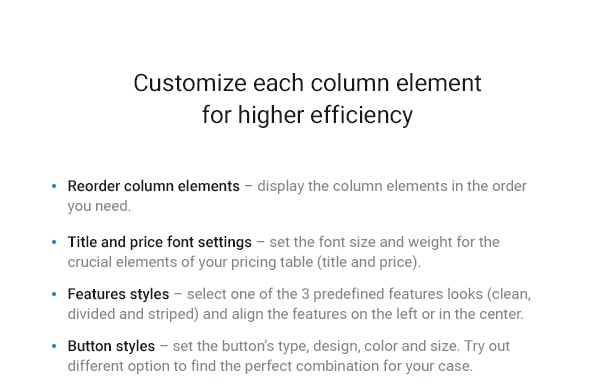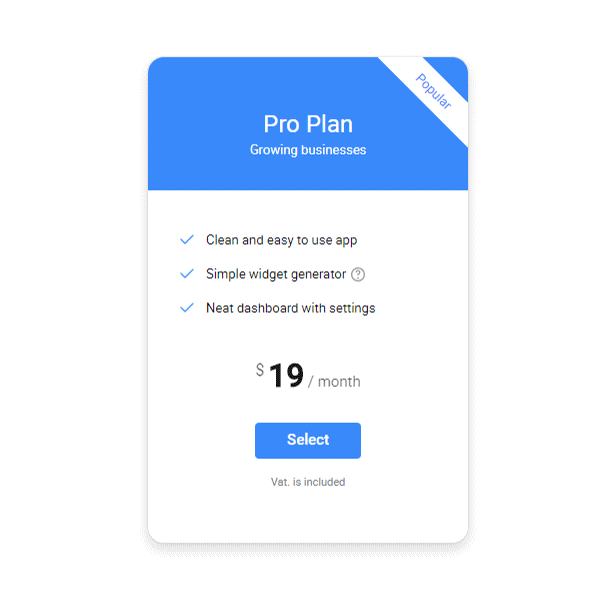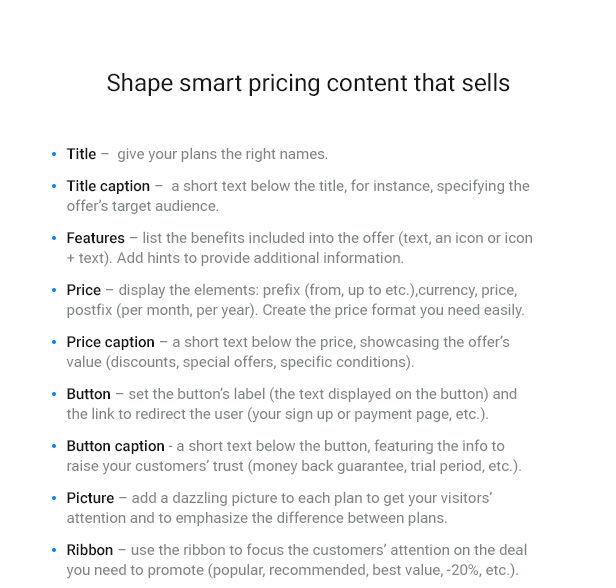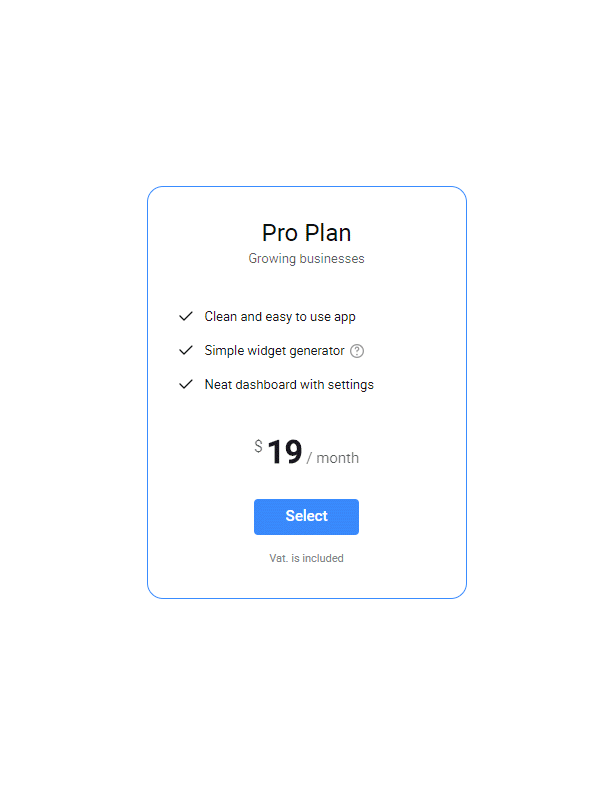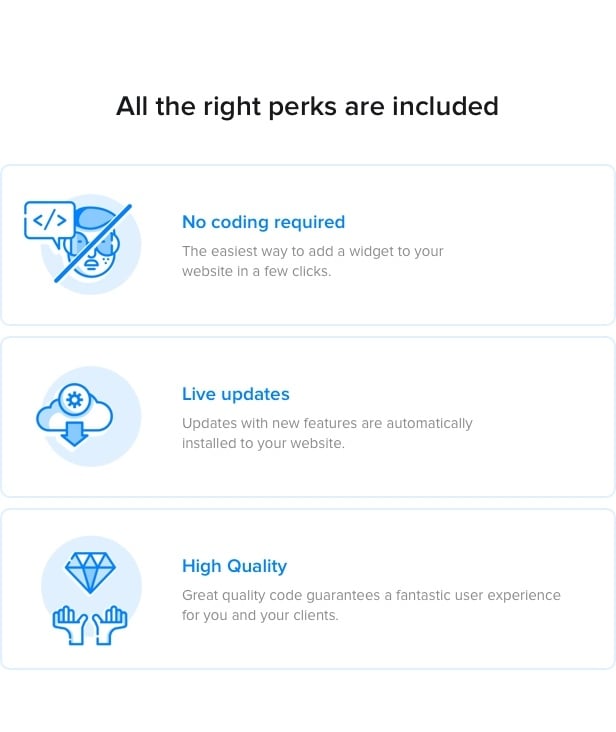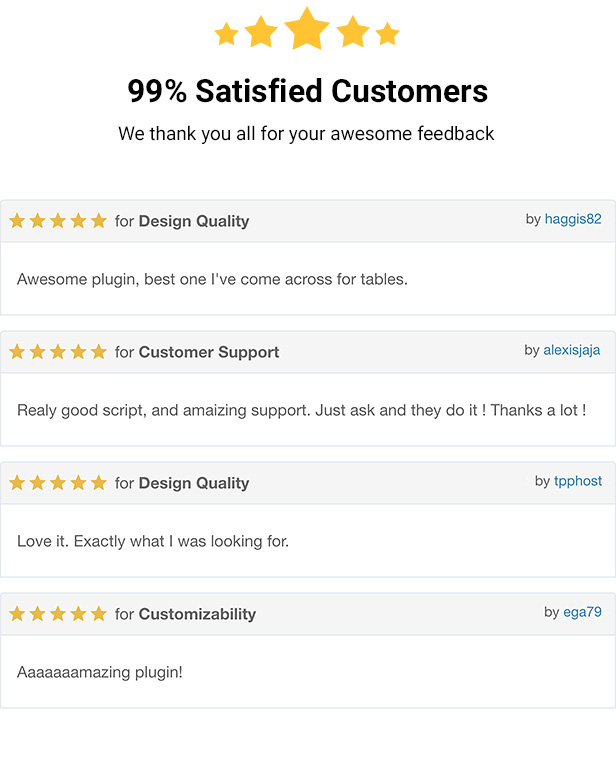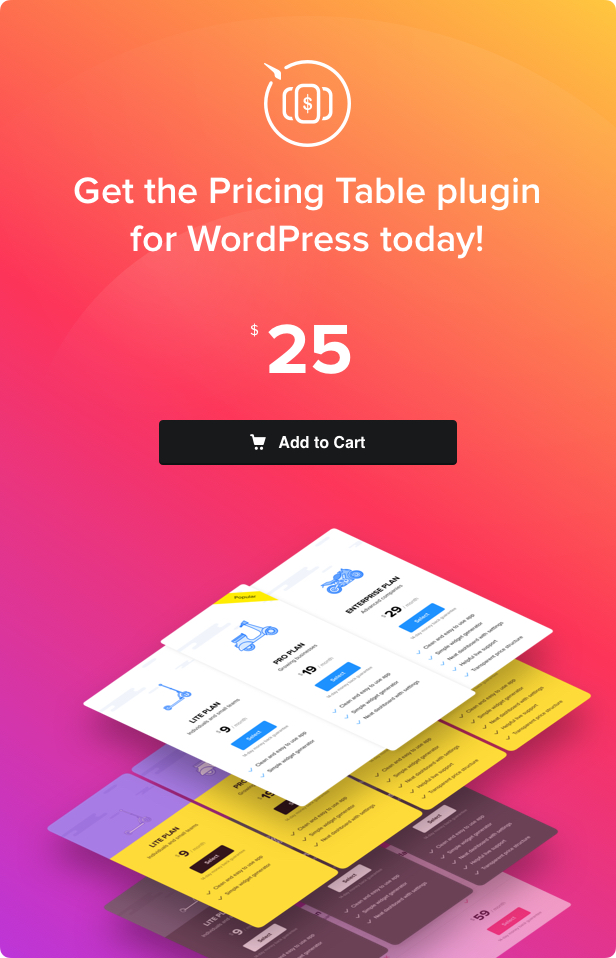 O melhor plugin de Tabela de Preços para WordPress da Elfsight é uma ferramenta estável e funcional que permite criar e publicar tabelas de preços totalmente personalizáveis ​​e responsivas em seu website em questão de minutos.
O que todo comerciante ou provedor de serviço on the internet precisa hoje em dia é se destacar em relação à concorrência e, para isso, você precisa usar todas as vantagens possíveis. Compradores e clientes online tendem a ser mais exigentes do que os da vida real, e é necessária uma ajuda additional para fazê-los dar grande passo da pesquisa para a compra genuine.
Como parte disso, uma página de preços bem projetada pode se tornar fator vital para o seu sucesso. Quando se trata de escolher produto ou serviço, preços claros e transparentes são o que todo cliente procura. Representação aesthetic simples e gráfica com informações de compra abrangentes são os principais componentes de uma tabela de preços e comparação que vende. Tendo testado nossa Tabela de preços costs em nossa página de preços, estamos felizes em dar a você a oportunidade de adicionar este ótimo plugin WordPress com uma infinidade de opções personalizáveis ​​em seu próprio website!
O plugin Best WordPress Pricing Table da Elfsight beneficia em resumo:
Posicione seus preços de maneira eficaz para aumentar as vendas
Facilidade de uso, style responsivo e perda de recursos
Colunas personalizáveis ​​para se adequar ao tema e ao esquema de cores do seu website
Interface intuitiva e amigável
Lista completa de recursos
3 tipos de design predefinidos
Largura responsiva do widget
Otimizado para celular
4 skins predefinidos, com diferentes esquemas de cores
6 elementos de coluna predefinidos que podem ser organizados e personalizados para obter a aparência perfeita
A opção de organizar os elementos das colunas de uma maneira preferida
A opção de personalizar cada coluna individualmente
A opção de tornar qualquer coluna em destaque
Os elementos de cor de cada coluna podem ser personalizados individualmente
2 tipos predefinidos de raio de borda
Mostra ou esconde o contorno da coluna
Tamanho e peso da fonte personalizável
Título totalmente personalizável
Lista de recursos totalmente personalizável, completa com ícones de recursos, dicas e número ilimitado de recursos
3 estilos de recursos predefinidos
2 tipos de alinhamento de recursos predefinidos
A opção de exibir legenda de preço
Vinculando o botão à página necessária
Raio e largura da borda do botão personalizável
Opção de fita
Exiba qualquer imagem simplesmente colando seu web link para o campo Imagem
Como adicionar o plugin da Tabela de Preços ao seu website WordPress
Adicionar uma Tabela de Preços ao seu website WordPress com nosso fantástico plugin leva menos de minuto. Tudo o que você precisa fazer é instalar o plugin no seu website, personalizá-lo e adicionar o código à sua página.
Um breve guia de instalação:
Baixe o plugin Elfsight Pricing Table em CodeCanyon.
Faça upload do plugin para o painel de administração.
Personalize as configurações e obtenha o código.
Adicione o código do plugin à página necessária.
Feito!
Ainda não verificou nosso plugin ao vivo? Faça agora mesmo Plug-in Tabela de Preços do WordPress página!
Log de alterações – nova versão 2.6.1 está disponível para download
25 de dezembro de 2020 – Versão 2.6.1
### Fixed
 * WordPress 5.6 compatibility concern
01 de setembro de 2020 – Versão 2.6.0
### Added
 * Support # in switch web link to produce support web links
 * The choice to alter typeface and also typeface weight for head column title
 * The choice of picking in between opening up a web link in a brand-new tab or in the existing tab
 * Horizontal scroll for desktop computer screen
 * New Support Form

### Fixed
 * Mobile tooltip concern with the device closing right after opening up
 * Fix z-index for tooltip, to stop it from opening up behind the table
 * CSS media concern in Safari
25 de novembro de 2019 – versão 2.5.3
### Fixed
 * Issues with tooltip positioning
 * Issues with computing the aspects' elevation in the head column on smart phones
 * Issue with using designs to the aspects in the head column on smart phones
 * Toggle aspects currently show up and down in instances when they do not suit the size of the display
 * Issue with the toggle vanishing when the major shade is gotten rid of
 * Issue with the plugin not functioning if attributes weren't included with the featuresEnable setup on
 * Images upload concern
20 de agosto de 2019 – versão 2.5.2
### Fixed
 * Tel and also mailto web links on switches concern has actually been repaired
13 de agosto de 2019 – versão 2.5.1
### Changed
 * Minor show changes of the attributes checklist

### Fixed
 * Choosing default worth for the toggle
 * Columns blinking throughout scroll on smart phones
 * The concern with the plugin not functioning when Cookies are shut off
 * Elements elevation computation concern in covert aspects (for instance, in covert tabs)
 * Tooltip show on smart phones
14 de maio de 2019 – versão 2.5.0
### Added
 * Pricing alternatives toggle is executed - currently you can change in between various payment durations or deal alternatives
 * Translation apply for the plugin admin panel

### Changed
 * jQuery reliance eliminated 

### Fixed
 * Fixed the concern with web links without procedure in the switches
 * Fixed the concern with the widget blinking at internet browser home window resize
 * Fixed the problems in Internet Explorer
12 de novembro de 2018 – versão 2.4.0
### Added
 * Block for the brand-new WordPress Gutenberg editor
25 de julho de 2018 – versão 2.3.0
### Added
 * The choice of establishing various postfixes and also prefixes for various columns
 * Many brand-new money have actually been included. 
 * The choice of opening up a web link in a brand-new tab on by clicking the switch
26 de abril de 2018 – versão 2.2.0
### Added
 * Automatic updates performance
 * Opening a ticket kind on Support web page

### Changed
 * Admin style upgraded

An essential upgrade for all Pricing Table individuals. Our designers took care of to include automated plugin upgrading on all WordPress web sites. We constantly focus on making our plugins the most effective!
16 de março de 2018 – Versão 2.1.1
### Fixed
 * Feature symbol placing concern

### Changed
 * Table format style boosted for smart phones
2 de março de 2018 – versão 2.1.0
### Added
 * 3 brand-new money
 * The choice of modifying predefined postfix, prefix and also money

### Changed
 * Improved style of column header in table design for mobiles
11 de janeiro de 2018 – versão 2.0.0
### Added
 * New cost setups (prefix, money, postfix)
 * New cost design
 * Button kind choice
 * Button dimension choice

### Changed
 * Settings framework - configuring your plugin has actually come to be also easier
 * New widget editor
 * Default design transformed to "columns" 
 * Default skin transformed to "skin1" 
 * Default major skin shade

### Fixed
 * Special chars insect
 * Head column setups insect
 * IE insect
 * Icon align concern in attributes
 * Bootstrap compatibility concern

The initially variation of WordPress Pricing Table plugin. We did a terrific task to make our item the most effective. Here we will certainly include the brand-new adjustments to it. 

group: wordpress/miscellaneous
cost : $ 25
hashtags : #Tabela #preços #Plugin #tabela #preços #WordPress