Taskhub SaaS – Project Management Tool, Finance & CRM Tool
14.00 $
Categories: Add-ons, Forms, Galleries, Interface Elements, Media, Miscellaneous, PHP Scripts, Social Networking, Utilities, Widgets, WordPress
Tags: #saas, #tool, business management, chat application, client relationship management, crm, finance, invoicing, lead management, leads, Management, Project, project management, Project Management Tools, project manager, staff management, task management, task manager, Taskhub, team collaboration, users management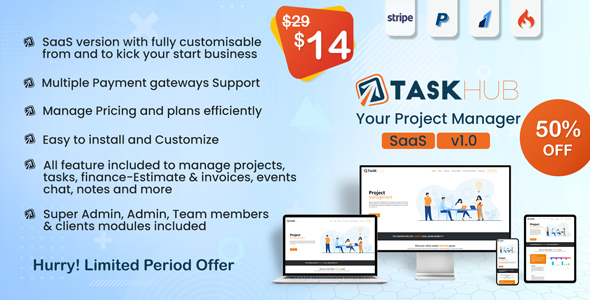 LIVE PREVIEWBUY FOR ENVANTO $14

Bem-vindo ao Taskhub SaaS – Ferramenta de Gerenciamento de Projetos, Ferramentas de Finanças e CRM. Sua busca termina aqui.
Por que vamos explicar você aqui?
Taskhub SaaS é a ferramenta moderna e poderosa para o seu Gerenciamento de Projetos, Finança E Gerenciamento de relacionamento com o cliente (CRM) finalidades. Isto é Versão SaaS do nosso sucesso former Taskhub – Gerente de Projeto sistema com novos recursos enormes e interessantes para oferecer a todos os clientes valiosos. Versão SaaS é feito principalmente para aqueles clientes ou empresas que desejam iniciar sua própria start-up ou pequena empresa que oferece uma solução de software application para Gerenciamento de Projetos , Gestão de Tarefas e Soluções de CRM para as empresas ou organizações de pequeno, médio ou grande porte. Explore nossa demonstração para verificar como tudo parece e funciona e para saber mais detalhes sobre os recursos e funcionalidades proceda abaixo para saber mais.
Credenciais de demonstração:
Email: superadmin@gmail.com
Senha: very @ 0124
Email: admin@gmail.com
Senha: admin @ 0124
Email: membro@gmail.com
Senha: membro @ 0124
cliente @ 0124
O que Taskhub SaaS oferece a você?
1. Um website front-end de aparência elegante, dinâmico e personalizável.
2. 4 painéis diferentes para cada função de usuário diferente, ou seja,
– Superadministrador (proprietário da empresa)
– Admin (proprietário da organização / administrador / pessoa autorizada principal)
– Membros da Equipe da Organização e,
– Clientes da Organização
3. Fácil de instalar e recurso de sistema de atualização automática com society.
4. Gerenciar preços e planos de forma eficiente e flexível para os clientes.
5. Configure ou configure o pagamento diferentes métodos de pagamento, como PayPal, Stripe ou Razorpay
6. Manter e monitorar assinaturas e ganhos com eficiência.
7. Personalize o website Frontend, bem como o website geral, sem obstáculos.
8. Gerencie suas faturas e assinaturas facilmente e faça pagamentos sem complicações com opções de entrance de pagamento embutidas. (Isto é para Admin da Organização)
9. Gerencie projetos, tarefas, membros da equipe, clientes, notas personalizadas, eventos e com mais eficiência.
Obrigado por visitar nosso produto, esperamos que goste.
Adoramos ajudar nossos clientes. Sinta-se sempre à vontade para entrar em contato conosco para qualquer tipo de dúvida técnica ou suporte que estaremos aqui para ajudá-lo. Das 9h às 18h30 IST. Aqui está nosso endereço oficial do Skype. Jaydeepjgiri
Log de alterações para atualizações – O que há afresh?
Versão 1.0.4.1
(atualizado em 28 de junho de 2021)

+ Bugs repairs as well as enhancements

Versão 1.0.4
(atualizado em 12 de junho de 2021)

+ Added different Admin, customer, as well as individual panel logo design, fifty percent logo design, favicon, as well as likewise firm title for the Admin Company ( not of Super admin )
+ Improved Invoices, Estimates, Send Email operates - included Logo as well as Company name of the Admin Company ( not of Super admin )
+ Improved all sorts of e-mails from ordinary HTML message to stylish looking themes
+ Added Email notices for ( Projects & Tasks task, User development, on effective Package Purchase or default strategy appointed, Plan expiry tip [ via crone jobs ] )
+ Fixed send out mail accessory problem
+ Allowed much more sorts of documents in send out mail accessory
+ Fixed failed to remember password as well as adjustment password e-mail concerns.
+ Fixed firm / individual enrollment e-mail problem.
+ Added ( Twilio ) SMS Notification system for ( Projects & Tasks jobs )
+ Added Twilio as well as crone tasks setups in very admin panel
+ Bug repairs as well as enhancements

Versão 1.0.3
(atualizado em 14 de abril de 2021)

+ Fixed component inequality.
+ Fixed style dimension device for jobs, jobs as well as conversation.
+ Fixed upgrade customer account problem.
+ Fixed unapproved accessibility to work space problem.
+ Fixed produce, modify price quotes as well as billings problem.

Versão 1.0.2
(atualizado em 10 de abril de 2021)

+ Fixed red stripe global repayment pest.
+ Fixed problem in Package produce as well as modify - cannot sent out header info (redirection after print)
+ Moved languages from sidebar to header in admin panel
+ Fixed keeps in mind food selection disappointing
+ Fixed upload job documents timeout problem (can publish huge documents)

Versão 1.0.1
(atualizado em 02-abril-2021)

+ Improved Auto Update System.
+ Fixed Saving of Settings problem in Super Admin
+ Fixed Image upload problem in Chat area
+ Fixed Update of Package problem
+ Fixed SMTP problem
+ Fixed Quick Contact type as well as Contact us develop sending by mail to an admin problem
+ Fixed Mobile food selection Static Logo problem
+ Improved some layout designing in the front end.
+ Overall enhancements as well as insects repairs

classification: php-scripts/project-management-tools
cost : $ 14
hashtags : #Taskhub #SaaS #Project #Management #Tool #Finance #CRM #Tool